Filon Roof Lights
Filon Products Ltd have been at the forefront of GRP rooflight production for industrial and agricultural buildings for more than 60 years. The range of Filon roof lights is extensive and diverse. Having tooling for around 1000 different roof profiles, being able to produce the 3 main fire performance products of SAB class 3, SAA class 1 and SAA class 0, Filon have it covered. The sheeting range also includes 7 different weight / thickness to satisfy specific project performance requirements and budgets.
Whilst the supply of the solutions below is strictly through an installer network, only authorised companies and trained engineers are able to install these access systems. You can find further information about a vast array of products at www.filon.co.uk.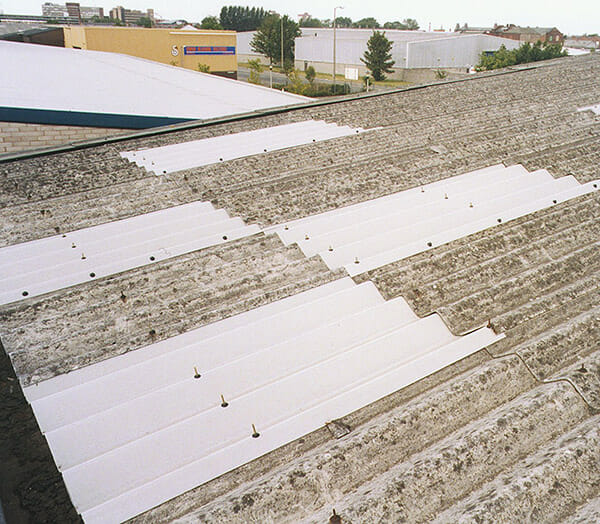 Single skin Filon rooflights are for single skin and site assembled applications and with the option of additional insulating layers to improve insulation levels and Building Regulations compliance. Filon GRP rooflights are available in the various weight types of: CE18; CE24; CE30 and; CE36 respectively with nominal weights of 1.83kg/m², 2.44kg/m², 3.06kg/m² and 3.66kg/m² but enhanced reinforcement products are available.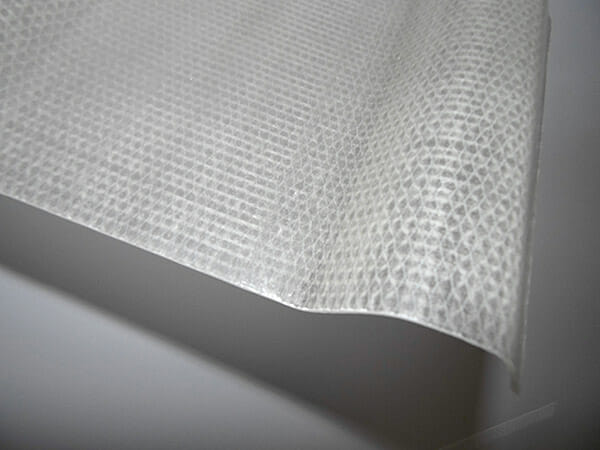 Filon DR rooflights incorporate an additional reinforced woven glass layer compared with conventional GRP rooflights. They have been tested in accordance with ACR(M)001 Test For Non-Fragility of Large Element Roofing Assemblies and are rated Class B. The DR range includes CEDR24 (nominally 2.44kg/m2) which has improved strength characteristics over and above a standard production CE30 (nominally 3.06kg/m2) whilst CEDR30 (nominally 3.06kg/m2) slightly outperforms the standard production CE36 (nominally 3.66kg/m2).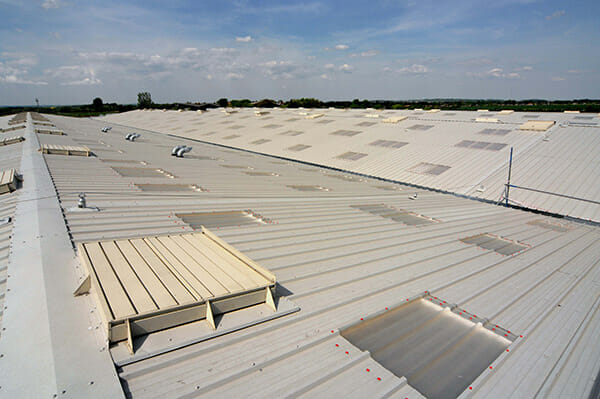 Filon Supasafe rooflights include two additional reinforcement layers, one of which is a reinforced woven glass mat. When tested to ACR(M)001 Test For Non-Fragility of Large Element Roofing Assemblies it achieves a class B non-fragility status offering similar impact resistance and load bearing capabilities to 0.7mm profiled steel sheet.
Filon reinforced GRP rooflights have a UV absorbing layer to the weather surface which extends sheet life and reduces yellowing. Under normal atmospheric conditions, life expectancy should be more than 30 years, with Supasafe around 40 years.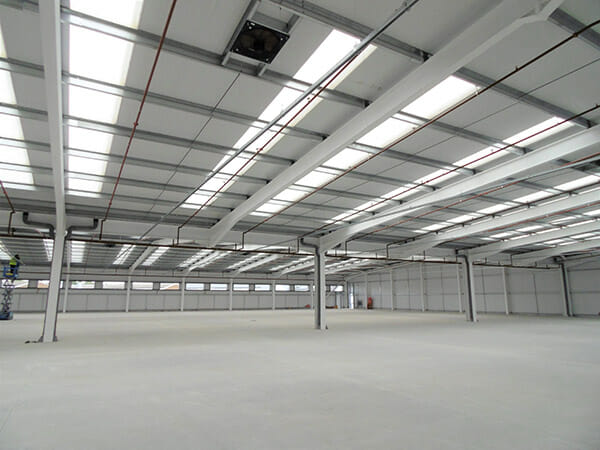 Filon FAIRs are GRP factory assembled insulating rooflights and provide an in-plane solution for composite panel roofs and walls. They are available as double and triple skin rooflights available to provide a range of insulation values to aid compliance with Building Regulations Part L (England and Wales) and Section 6 of the Building (Scotland) Regulations Technical Handbooks.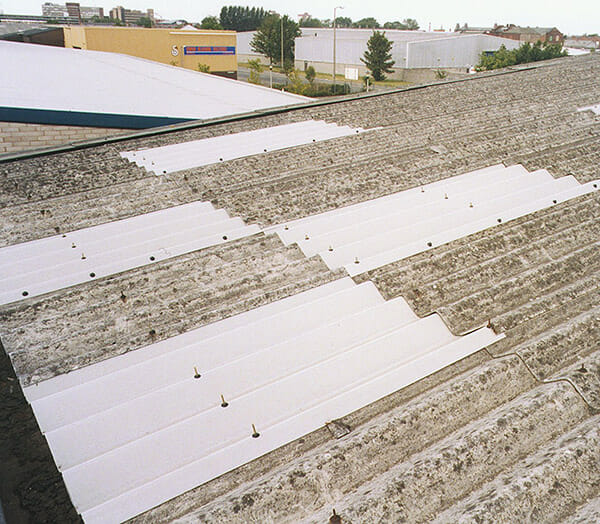 Filon DR-Refurb sheets are available in opaque asbestos grey as a replacement for old or damaged profiled roofing sheets – including profiles which have been discontinued. Incorporating an extra woven glass reinforcement matt it is ideal for replacement of old asbestos cement sheets and thin enough to overlay.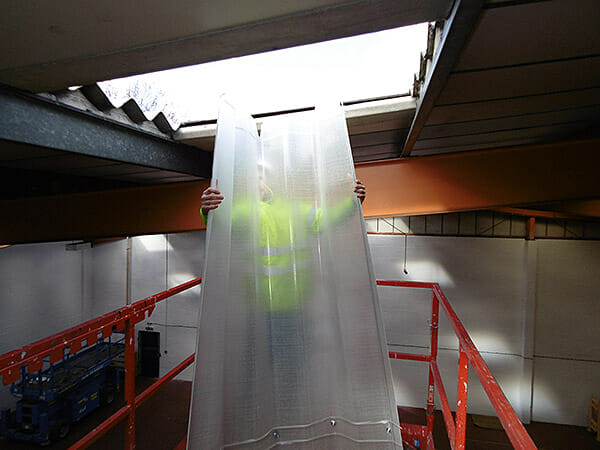 The patented Filon Fixsafe replacement rooflight system is designed to allow profiled rooflights or roof sheets to be replaced entirely from within the building, eliminating the need to access dangerous fragile roofs, thereby increasing safety for maintenance operatives and equipment erectors. By removing the requirement for costly safety netting, roof staging, fall protection and external scaffolding, access equipment costs are minimised, on-site time is reduced and lives are not put at risk. The speed and ease with which roof repairs can be carried out using the Fixsafe system brings important advantages to building owners, with reduced disruption and safer working procedures. With netting and scaffold being unnecessary, there are further benefits for the building occupier as less tradespeople are on site.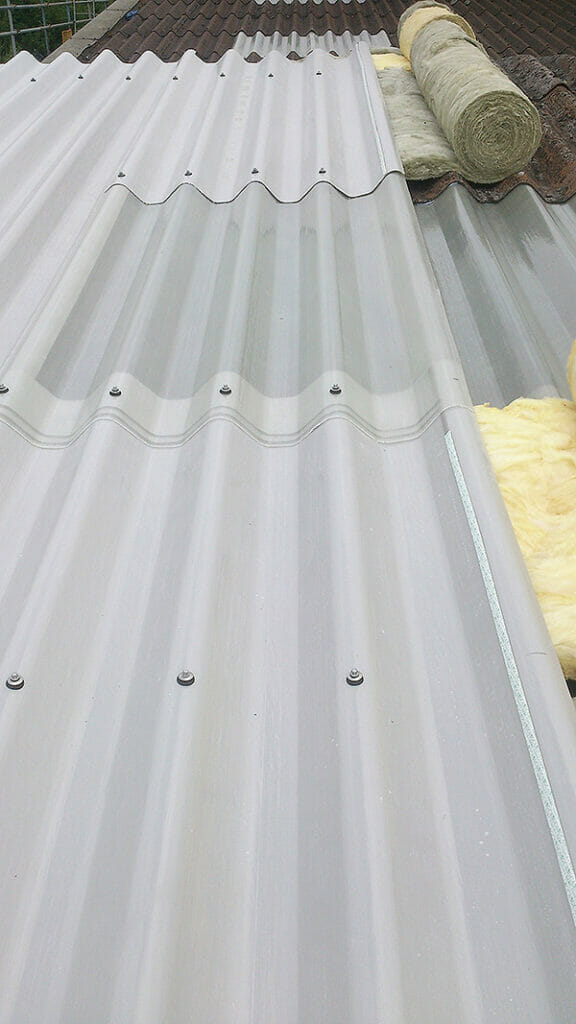 The Filon Over-Roofing system with its unique Profix spacer is designed to provide a quick, trouble free and economical solution for a new waterproof skin over an existing roof, whatever its condition. Most asbestos fibre cement roof profiles can be matched and, subject to enquiry, may also be used for metal trapezoidal profiles.
Filon Over-Roofing is lightweight yet strong and is manufactured to replicate the existing roof profile. As the weight of the system is less than that of the potential water absorbed by the existing asbestos cement and fibre cement sheets, there is no requirement for structural calculations. The building will have carried heavier loads under saturation before, but the existing sheets will not get wet again.
Filon Over-Roofing is a cost-effective alternative to stripping and reroofing and the ingenious system eliminates considerable costs and landfill taxes implemented when asbestos must be removed. With guarantees of up to 30 years, it can incorporate insulation to improve thermal performance of the roof and therefore heating costs.