Hydrajaws Portable Pull Testers
Hydrajaws develop, manufacture and sell a range of portable pull testers for testing the crucial holding force of anchors and fixings in construction materials. For over thirty years, their testers have been confirming the on-site safety of fixings in countries worldwide. With their extensive knowledge and expertise, they are regularly approached to provide solutions for a particular testing requirement. Their wide range of testing models can confirm a wide variety of vital items including: anchors, fasteners and engineered lifeline systems for personal fall protection.
Whilst supply of this product is through an approved network, you can find further information of products at www.hydrajaws.co.uk.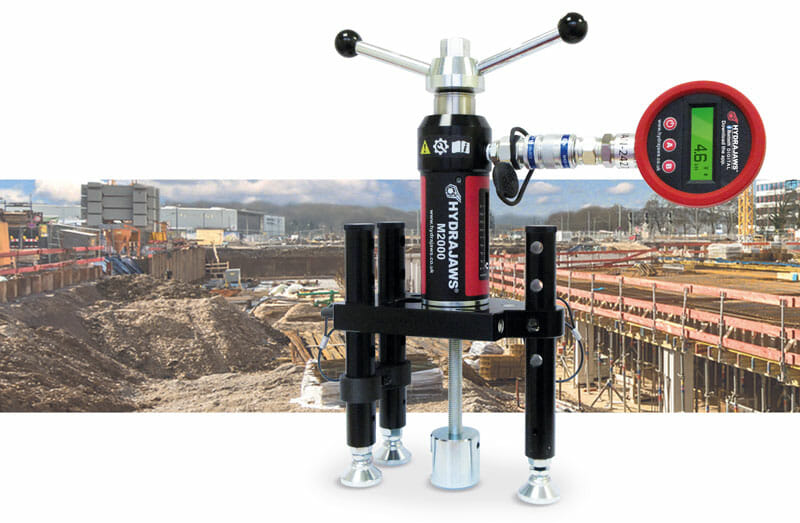 The M2000 Medium Duty Fixing Tester enables engineers to confirm the holding power of anchors in all of the most common construction materials. The M2000 PRO Kit comprises all the necessary accessories to enable it to cover a pull test on a comprehensive range of fixings.
THE M2000 SCAFFOLD TIE TESTER KIT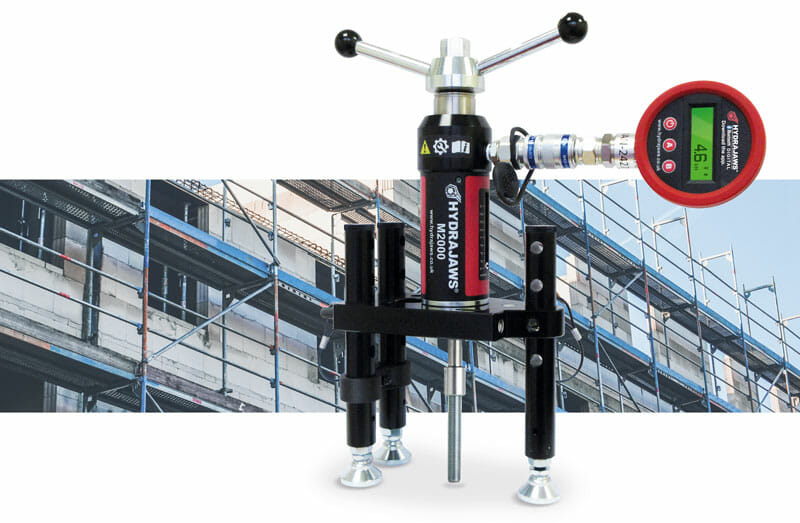 Our specialist kit for ensuring peace-of-mind when erecting and building scaffold systems. The M2000 is a light and portable tester which is an essential tool for any scaffolder wanting to comply with current health and safety practices. The Hydrajaws Scaffold Tie Tester kit will test all types of anchor most commonly used for anchoring scaffold ties up to a maximum tensile load of 25kN.
UNIVERSAL SAFETY LIFELINE CABLE TESTING EQUIPMENT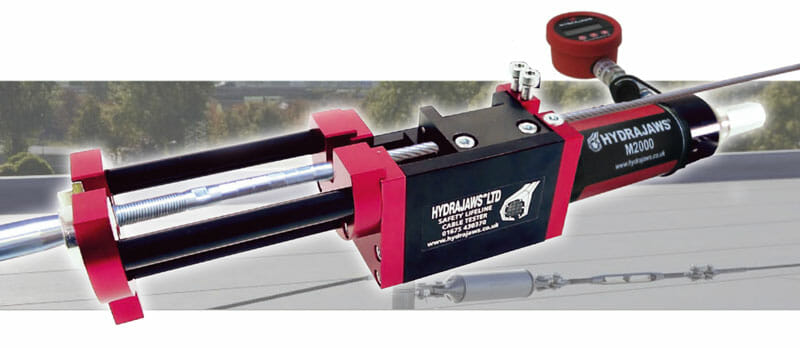 New for 2020, Hydrajaws have completely re–designed the portable cable system tester which is now lighter, more compact and very user friendly. The tester clamps directly to the 8mm wire rope and will test all the swaged components during installation and for annual inspections in accordance with existing safety standards. The new tester comes with all the accessories to enable the operator to test existing installations including those with long terminating assemblies without any additional parts having to be used.
M2000 SAFETY HARNESS EYE BOLT TESTER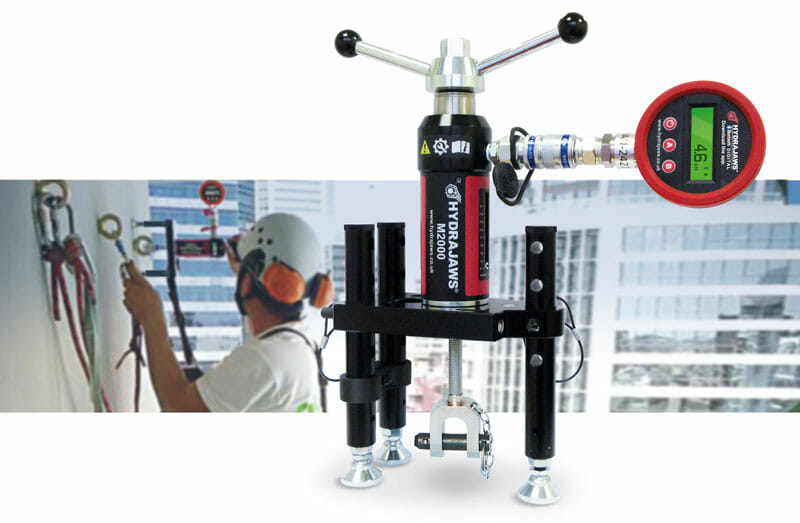 For testing Safety Harness Eye Bolts to the requirements of BS 7883:2019 "Personal fall protection equipment. Anchor systems. System design, installation and inspection. Code of practice" incorporating anchor devices conforming to BS EN 795. Ladder restraint hooks and most ringbolts in concrete or masonry may be tested with this kit.
THE BLUETOOTH DIGITAL SYSTEM
The Hydrajaws Bluetooth Digital system allows on-site pull tests to be automatically recorded and compiled into a digital report using the Hydrajaws Bluetooth Digital App on a mobile phone or tablet device.
These reports can be sent directly to clients or managers and are stored in the cloud to be accessed remotely anywhere on a browser in a users own company dashboard.
Report from on-site
Proof of results
Complete visibility of jobs
Easy to use
User friendly Hydrajaws App