PPE Lanyards
Shock absorbing lanyards generally go hand in hand with a harness and should be tested and CE marked to EN355:1992.
You should always check that all equipment is compatible before use. Always thoroughly inspect all components before and after fitting, ensuring that you pay particular attention to the operation of connectors.
Ensure that all components used within the fall arrest system are compatible and if in doubt seek advice.
Only use with a Full body harness complying with EN 361
Any karabiner, or connector used must comply with EN 362
Additional lanyards or extension lanyards must comply with EN 354.
Do not extend the lanyard, for example by adding additional lanyards or multiple connectors so the length exceeds 1.8 meters.
Lanyard Inspection Pre Use, Checks & Examination
When inspecting lanyards, begin at one end and work to the opposite end. Slowly rotating the lanyard so that the entire circumference is checked. Additionally follow the procedures below.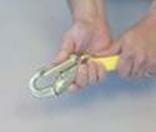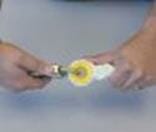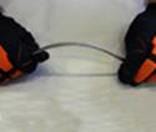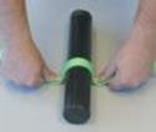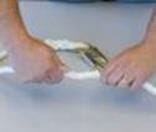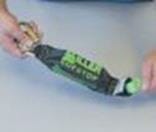 Hardware
Snaps: Inspect closely for hook and eye distortions, cracks, corrosion, or pitted surfaces. The keeper (latch) should seat into the nose without binding and should not be distorted or obstructed. The keeper spring should exert sufficient force to firmly close the keeper. Keeper locks must prevent the keeper from opening when the keeper closes.
Thimbles
The thimble must be firmly seated in the eye of the splice, and the splice should have no loose or cut strands. The edges of the thimble must be free of sharp edges, distortion or cracks.
Wire Rope Lanyard
Always wear gloves when inspecting a wire rope lanyard as broken strands can cause injury. While rotating the wire rope lanyard, watch for cuts, frayed areas or unusual wearing patterns on the wire. Broken strands will separate from the body of the lanyard.
Web Lanyard
While bending webbing over a pipe or mandrel, observe each side of the webbed lanyard. This will reveal any cuts, snags or breaks. Swelling, discolouration, cracks and charring are obvious signs of chemical or heat damage. Observe closely for any breaks in stitching. Inspect lanyard warning flag for signs of activation. Titan tubular lanyards must be measured to determine activation.
Rope Lanyard
Rotate the rope lanyard while inspecting from end-to-end for any fuzzy, worn, broken or cut fibers. Weakened areas from extreme loads will appear as a noticeable change in original diameter. The rope diameter should be uniform throughout following a short break-in period.
Shock Absorber Pack
The outer portion of the pack should be examined for burn holes and tears. Stitching on areas where the pack is sewn to D-rings, belts or lanyards should be examined for loose strands, rips, deterioration or other signs of activation.
Should you require lanyards as part of your personal protection requirements, please visit our partners at harnesses.co.uk