MR Site Services
Fallarrest.com is proud to associate ourselves with MR Site Services.  Please find the following information of the services that we are able to provide to our clients as part of our overall solutions.
Pioneering aluminium roof welding specialist Melvyn Rowberry M.R. (Site Services) Ltd carries all the knowledge and expertise gained from nearly 4 decades in the roofing industry, with the attention to detail and service which the industry has come to expect from Rowberry. The design of most soakers, hips, valleys and cranked sheets which are common on modern roofs owe their origins to the Rowberry name. Attention to detail is obvious right from the start and all work is carried out to the highest levels of accuracy and quality. When completed, sites are left clean and safe; our record for safety is second to none.
Our expertise has been applied throughout Europe and across the Middle East, Far East, Africa, Canada, Asia and Iceland. Overseas work includes Rollaflex in the Falklands and welding in Hong Kong, California and several projects in western Canada. Our prestige projects include a include Wembley Stadium, Manchester United Football Stadium, Blackfriars Bridge Station, The O2 Arena, Buckingham Palace. Our work has also been featured on Grand Designs & DIY SOS tv shows.
Working Standards
BS EN ISO 9001:2015 – Procedure and Document Quality System
BS EN 1090 – Structural Steel and Aluminium
ISO 9606 – Welding Standard
CHAS – Contractors Health and Safety Assessment Scheme
CE Mark – CE marked Quantum® Walkway
Trade Membership
National Federation of Roofing Contractors
Institute of Roofing
Liquid Roofing & Waterproofing Association

ETIHAD Football Stadium
Quantum® Safety Systems:
Walkway with hand rail to one side all fixed back to a Kalzip 65/400 standing seam roofing system. Steps over differing Kalzip roof areas.
Free standing hand rail fixed along a single ply membrane gutter.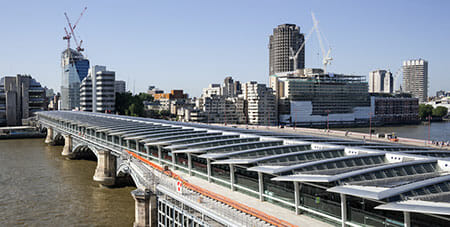 Blackfriars Bridge Station
The specialist expertise and flexible working practices of M.R. Site Services were essential to completing over 1,300 metres of welding during the project despite logistical constraints. Usual welding vehicles had to be replaced by portable welding sets on Blackfriars Bridge.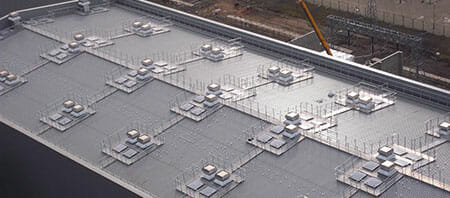 West Burton Power Station
3 phase project with 800 metres of walkway and handrails per building, with 3 buildings, on a £3.9 Billion pounds project. Walkway originally designed in Galvanised steel, Quantum® aluminium walkways were eventually the chosen material giving huge savings in both program and cost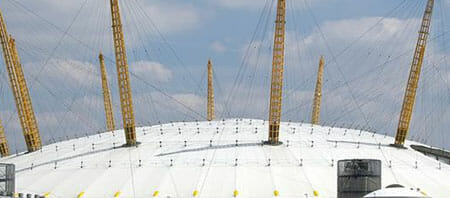 O2 Arena
Fabricate gutters and hoppers in mill finish aluminium, fully factory weld and deliver to site on specialist transport. Install fully floating gutters and 24 hoppers each capable of collecting 27000 gallons of water to feed toilet flush systems.