Welcome to fallarrest.com
This site has been designed primarily to provide important information relating to working at height, fall prevention & protection.  You will find a wealth of information on our site however we have made this as simple as possible for you so all you need to do is cherry pick the information that you need.  Our vision is to design a site that pieces together complete envelope roofing solutions including information and provision for associated personal protective equipment that is commonly used with fall protection systems.  We are uniquely placed to be able to facilitate all of your requirements on one platform. This will save you time trawling through multiple websites, manufacturers, and installers for information relating to all roof-associated products and from a trusted source.
We can assist in the design, supply, installation, and recertification of fall protection equipment as well as the supply of personal protective equipment (PPE).
There are many systems within the marketplace that simply 'do not work' and a vast number of companies that lack the training & understanding of fall protection and really shouldn't be operating in the industry.  In recent years there has been a vast number of companies that have 'sprung up' seeking profits over safety as well as labour supply companies that supply untrained and unskilled labour to the industry.
We are extremely proud to be associated on our page with leading recognised and reputable names in the industry, a testament to the trust that is instilled in our companies and we would like to thank them for being part of our vision. Fallarrest.com operates on a global platform so it matters not where you are geographically as we can assist you.
All of the products listed on this site are generally available through an approved distributor network only. Fallarrest.com are approved to supply and install for all of the manufacturers listed, however, we have provided the links to our partner websites for ease of navigation as in all instances there is an enormous amount of further high quality and engineered products that can be found on their websites. Please do not hesitate to contact us as we can put you in touch with the right people and the service or product that you are looking for.
We are uniquely placed through our partner site harnesses.co.uk to offer advice and supply of leading, innovative and highly engineered products ranging from harnesses, lanyards, personal rescue devices, SRL units, mini SRL blocks, rescue kits, free standing non-penetrative weighted anchors for use in conjunction with fall protection systems.
Falls from height remain one of the most common causes of injury and fatality at work accounting for nearly 30% of injuries to workers. It is a stark reality that in an age where working at height is commonplace that fall protection measures still need to be much more effective.
According to fall protection manufacturers, a three-pronged approach to fall protection is required. Namely engineering innovation, compliance, regulations, and representative test methods.
'Scaffolds, handrails, barriers, and movable platforms can be constructed to protect workers employed at heights. Where these devices are impractical, personal fall protection equipment such as full-body harnesses, lanyards, and retractable lifelines may be used.'
Fall protection can create a minefield of complexities and hazards and should only be carried out by trained, competent, and authorised people. We hope that our web site will provide you with guidance on what you need to know, what to do and how to do it.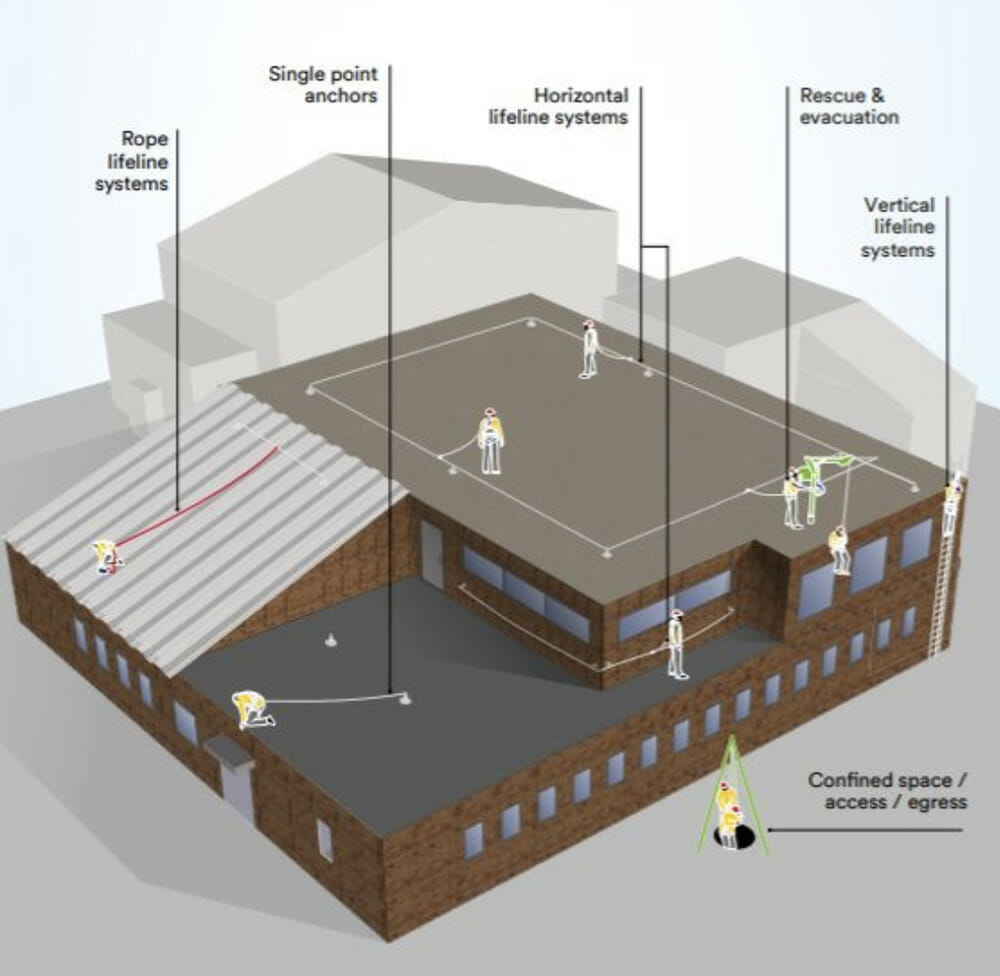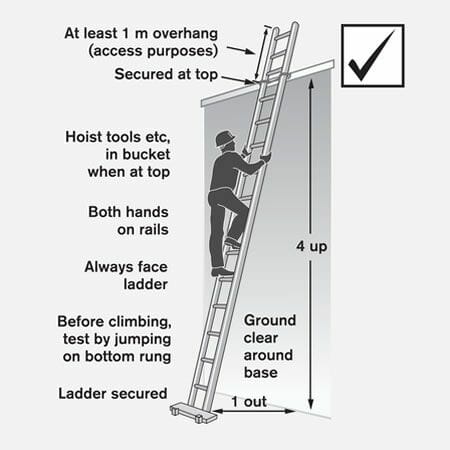 Please use the menu for further information appertaining to each section.
Fall arrest is the term used for when somebody 'falls from height' and their fall is 'arrested'.
Fall restraint is the term used for when somebody is restricted from reaching the fall hazard, thus restrained.
Testing & recertification is the term used for when a fall protection system must be tested at intervals no greater than 12 months as per legislation.
Harnesses are what is required as part of the personal protective equipment (PPE) to be worn when using a fall protection system.
Access Ladder is a means of access and egress to a roof.
We will explain the fall protection market, what is fall protection, falls from height, the difference between fall arrest and fall restraint, what you should consider when designing fall protection, window cleaning at height, the risks and dangers of suspension trauma, legal requirements around the world and the importance of annual testing and recertification of installed fall protection systems.
We hope that you find the site informative and interesting. However, should you have any questions or require any additional advice, please do not hesitate to contact our team via our contact form or email info@fallarrest.com